Size Chart
ATTENTION OF USAGE
We provide variety of glove sizes form XS to XXXL. You can always rely on us to find a pair of gloves that fit you great.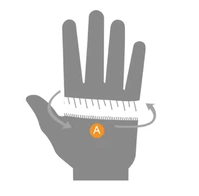 As shown in the picture, you can use a tape measure to measure the length (inches or centimeters) of a circle of your palm under your knuckles.
*Note: these gloves are designed to tightly fit your hands, so you might find difficult first time put your hands in. It is normal. The extensibility of leather will shape it to perfectly and comfortably fit your hand after wearing a few days.
*Different styles of gloves have different corresponding size tables. Pay attention to the size tables of the corresponding products.
*In case you look for a comfortable fit from the beginning, we suggest you to go up for one size.